Past FO's
Hopefully I have figured out how to post pictures! *hi five!*
These are just a couple that I have made for people I love.

That is my very first Booga Bag to be given to my friend Lyssie for Christmas last year. And yes, I still have yet to give it to her. I'm a pathetic friend *sob* People like me are why the term "It's the thought that counts" was created. Because I've thought about sending it. A lot. But then I forget to actually do it. *hugs* Lyssie you know I love you.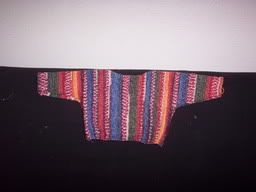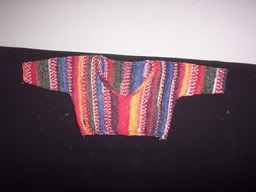 That is the very first "real" project that I did. I meandered into Black Sheep Wool in Salt Lake City, Utah and wandered around checking things out. Someone had knitted that same sweater and had it on display, so I asked one of the very helpful women that work there if that was an easy project for someone who only knows how to knit and purl, and not very well. She told me the whole project was knit, purl and increase and decrease. I managed to learn those things and the sweater came out just fine. I gave it to my wonderful friend Sara who had a baby last November. He's a cutie :)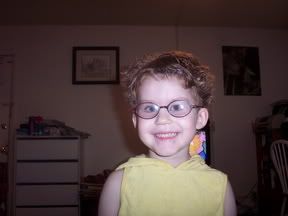 This is obviously one of my greatest WIPS :) This is my beautiful 4 year old Jessica. She had longer hair last week. This last Thursday she felt the need to become a beautician and chopped her hair to pieces. We had to cut it VERY short all over so it would blend better. I was crushed. I couldn't even bring myself to take pictures of it until after we had it "fixed."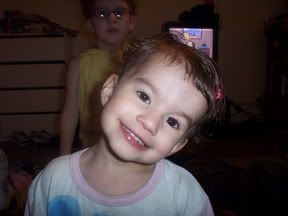 This is my 2 year old WIP. Her name is Jennifer, but she yells at you if you call her that. She prefers either Niff or Niffie. She fell victim to her older sister and lost all of her beautiful locks. Her hair cascaded down her back and was quite long and pretty. Now it's shorter than short :( Thankfully it's hair and will grow back. But still, I would have preferred not to find out the hard way that children like to play beauty parlor. And that they think they look wonderful when they're done.
On the knitting front, I've done nothing today. I'll work some more later tonight on the dishclothes.
Signing out,
T