IT. IS. FINALLY. DONE!!!!!DONE!!!!!DONE!!!!!
So I finally finished it. It's done. DONE. DONE DONE DONE!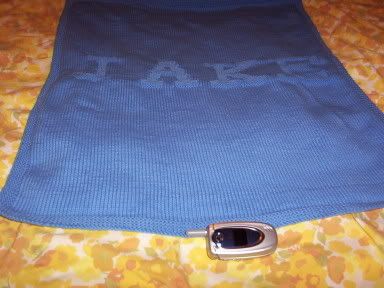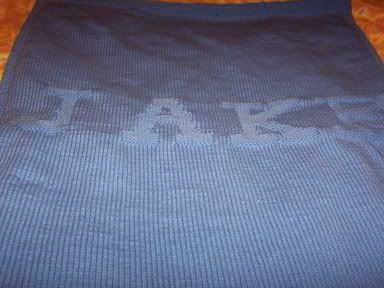 A close up of the letters: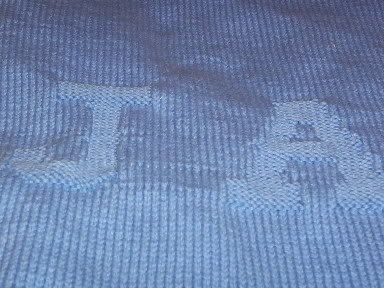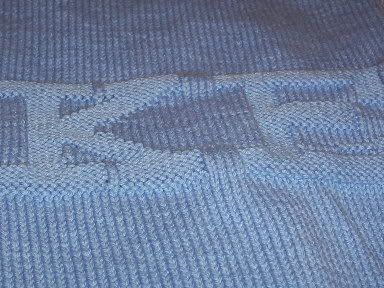 To make those letters, I did reverse stockinette. It was more confusing to me at first than anything, but once I got it figured out, it actually went pretty smoothly.
I used the personalized baby blanket pattern from Simple Knits For Cherished Babies. I think the author is Erika Knight, but I loaned the book out, so I'm not 100% sure on that. The yarn was blue Cotton Ease. The needle size was 3.75. Time it took was about 7 months, but mostly because I just didn't work on it diligently enough.
Niff has mentioned what she would like to name our baby. Currently she is obsessed with Batman, so that's what she wants to name it. It's out of the question of course, so she came up with her own way of making herself happy: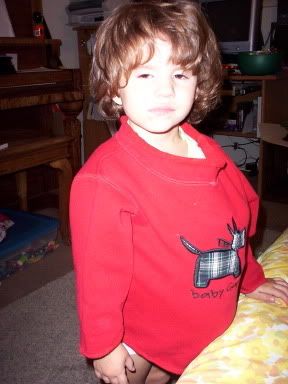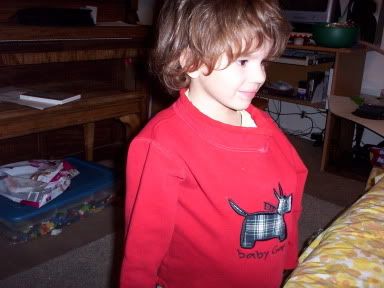 She went upstairs for a few minutes, then came back down and informed me that she has a baby in her tummy. I giggled my face off, then had her grab the camera so I could snap a shot or two :) She had stuffed her doggy in her tummy. Then she pulled the stuffed animal out and said "It's my baby! It's Batman!" I thought it was adorably cute :)
SP, I have an apology. In my previous post, I mentioned feeling old while knitting. However, it wasn't the knitting that made me feel old. It was that we were sitting around not going out somewhere that made me feel old. Like a boring old home body or something. Not that we normally go out on the town, but for some reason last night, waiting for my shows to come on, I felt..."settled" I guess. I hope nobody took my post as knitters being old people, because that's certainly not how I view it. Quite the contrary. The only knitters I know are young people!
Well, my next project to finish is my branching out scarf, which is for one of the docs I work for for her late birthday/Christmas present. Hopefully it doesn't take me 7 months to finish that.
Good night!